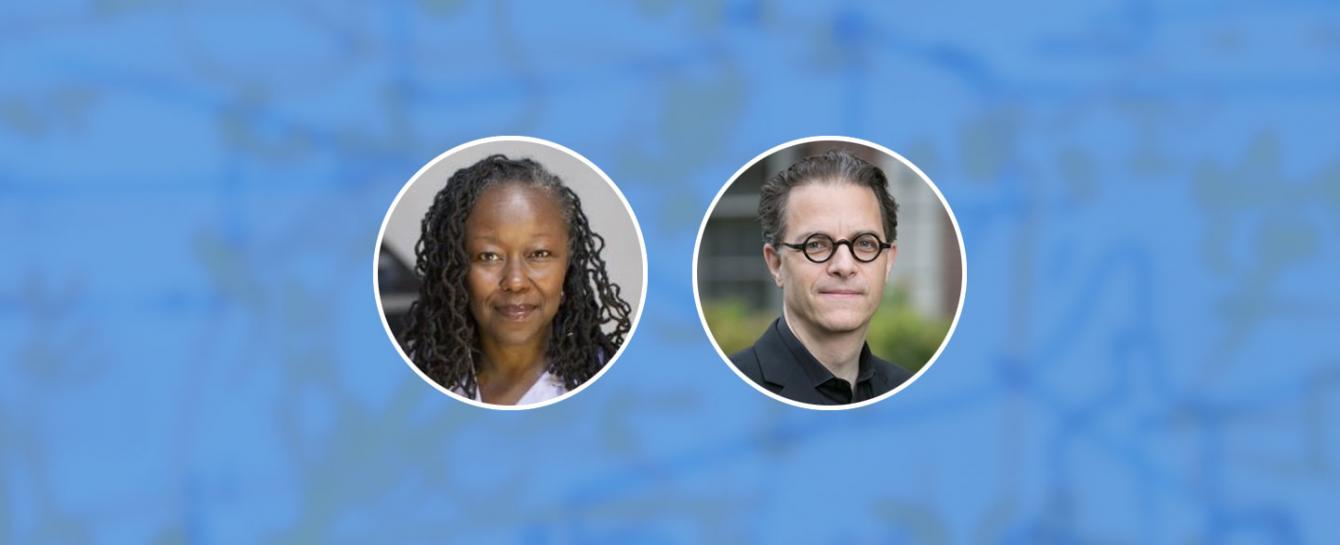 What is the Just Societies Faculty Task Force?
To delve into the Task Force, we spoke with co-chairs Farah Griffin, William B. Ransford Professor of English and Comparative Literature and African-American Studies, and Bernard Harcourt, Isidor and Seville Sulzbacher Professor of Law and Professor of Political Science.
 
What is the Just Societies Faculty Task Force?
Farah Griffin and Bernard Harcourt: The faculty task force has brought together professors from around campus, from every school and division, who are deeply engaged in seeing their research bear fruit and contribute to a more just society. We have faculty across the arts and sciences, from the law, medical, and business schools, in public health and social work, in engineering, Teacher's College, and all across campus deeply invested in working together and finding ways to find the synergies among their different research and projects. The result is a University-wide effort to support the unique work that we are doing here at Columbia.
Sociologist Alondra Nelson once called Columbia the "social justice Ivy." To the extent that this is true, why? Where do we have the furthest distance to go to realize that promise?
Farah Griffin and Bernard Harcourt: We saw that well when our Trustees, alone, led the academic community in divesting from corporations involved in the private prison industry. That showed justice and leadership, and has inspired faculty and students around campus who have also been striving for a more just society. When you look at what distinguishes Columbia from its peers, one clear dimension is the critical mass of faculty and students working in this area of just societies. It it truly remarkable the amount of energy and the number of projects that form part of this larger initiative. The task now is to marshal the resources to push these projects and the university to the next level.
Justice work is happening in every corner of the University. Is there a project that for you epitomizes The Columbia Commitment to Just Societies?
Farah Griffin: In addition to the many projects Bernard highlights here, I think there is important research and teaching throughout the University. In the College of Arts and Sciences, students are introduced to conceptions of Justice in the Core curriculum where they study literary and philosophical texts on the subject. From there they fan out into courses where Social Justice is a driving area of analysis, this is especially the case in work being done by our interdisciplinary institutes and centers, including but not limited to the Institute for Research in African American Studies (IRAAS), the Institute for Research on Women, Gender and Sexuality (IRWAGS), the Center for the Study of Race and Ethnicity (CSER) and many other units.

Bernard Harcourt: There are so many outstanding projects around campus it is hard to narrow it down, but I would say that our Justice-in-Education initiatives at Sing Sing, Bedford Hills, Rikers Island, and other facilities are remarkable, especially in conjunction with the fellowships at Columbia for formerly incarcerated persons; our new Justice Lab and its central role in the Close Rikers project; the new Holder Initiative for Civil and Political Rights that is empowering so many undergraduates; the Knight Institute and its many initiatives for First Amendment protections; the law school clinics and centers that focus on racial and gender justice; the Tamer center at the Business School--you see, when we start to identify all the remarkable work being done at Columbia, it becomes impossible to stop, there is so much going on, and I've just touched on a few.
What does justice mean to you?
Farah Griffin: To me, justice is not only determined by our courts and laws, but it is also the creation of a society where all people have free and equal opportunity to reach their fullest potential. Where barriers to accomplishing this are eliminated and where goods are distributed fairly.

Bernard Harcourt: The university arose in the eleventh and twelfth centuries—at Bologna, at the Sorbonne—with the very ambition of making societies more just on this earth. They began in effect as solidaristic mutual aid societies, and have, for the most part, stood as bastions for justice and as sanctuaries in many countries. It is this tradition that we at Columbia are striving to nourish because only the university is capable of leveraging research and clinical practice in such a way as to really transform society for the better. We have, and Columbia especially, a unique ability to harness the best empirical research and critical thinking, and to put it into effect. It's thrilling. It's important. It's vital.