Gerry Lenfest Pledges $30 Million to Fund New Arts Center on Manhattanville Campus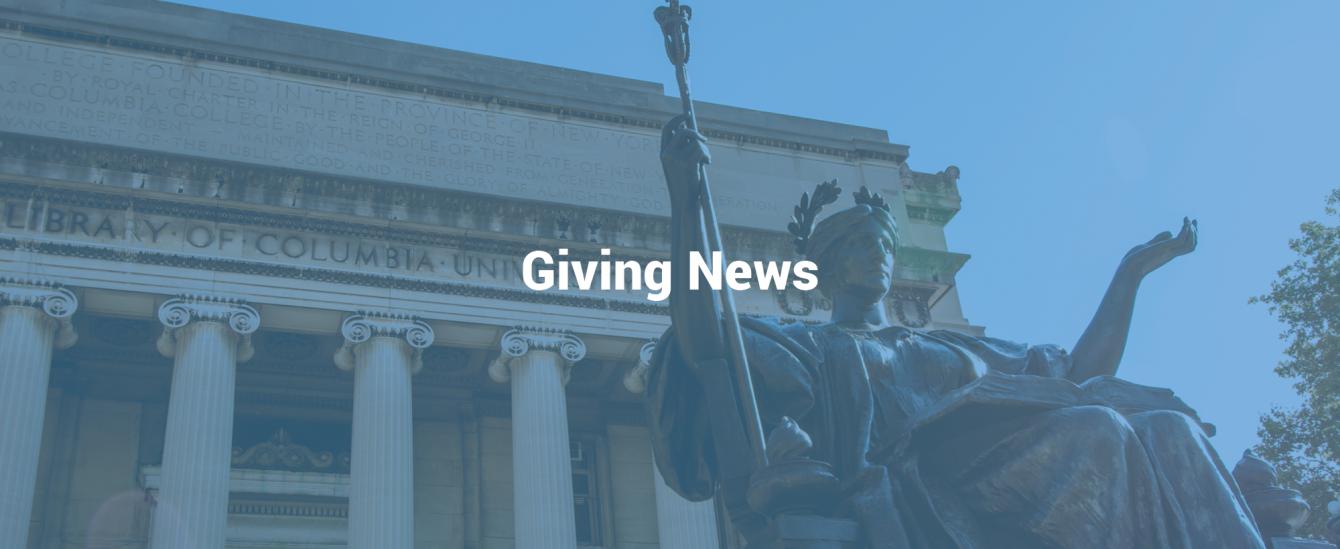 November 18, 2011 — Columbia University Trustee H.F. "Gerry" Lenfest ('58LAW, '09HON), a benefactor whose previous gifts of more than $100 million place him among Columbia's most generous donors, has made a new pledge of $30 million to support the construction of a multi-arts venue on the University's Manhattanville campus. The gift was announced Nov. 17, 2011 at Columbia College's Alexander Hamilton Dinner honoring Lenfest. It is the largest gift ever made for the arts at Columbia and the new venue will be named the Lenfest Center for the Arts in his honor.
"The breadth of Gerry Lenfest's philanthropy and generosity to Columbia is truly remarkable," said Columbia University President Lee C. Bollinger, who announced the gift. "From the law school he attended to the humanities and sciences, from the Earth Institute to our medical center, Gerry has provided the sustainable source of energy for excellence across a diversity of University life and scholarship. This latest gift not only reflects the extraordinary leadership in the arts that he and Marguerite have long demonstrated in their home city of Philadelphia, it ensures that our thriving School of the Arts will finally have a facility that matches its astonishing creativity and the university will have a vital new space for engagement in the robust cultural life of Harlem."
"For Marguerite and me, naming the new arts center is a wonderful way of doing two things we care deeply about—supporting the arts and supporting Columbia University as a leading center of creative thought in New York City and throughout the world," said Lenfest. "As Columbia develops a new campus, it is great to think that the arts will play a central role, and that a beautiful new building by Renzo Piano will welcome audiences across New York City, and make new partnerships possible."
Renzo Piano Building Workshop, which co-created the Manhattanville campus master plan along with Skidmore, Owings and Merrill, will design the six-floor, 53,000 square foot structure. It will stand prominently on a small public plaza on West 125th Street between Broadway and 12th Avenue, just west of the Jerome L. Greene Science Center, which will house the University's Mind Brain Behavior interdisciplinary neuroscience initiative. The building will contain an art gallery, a state-of-the-art film screening room, a flexible performance space, and presentation space for readings, symposia and seminars.
"Our goal is to create a welcoming venue where every space can be activated, to showcase the School of the Arts and to collaborate with other schools, departments, and centers at the University," said Carol Becker, dean of the School of the Arts. "We look forward to featuring the work of students, faculty, and guest artists in film, theater, writing, and visual arts, to opening the doors to new and established neighborhood relationships and to fostering stronger connections to the always vibrant art scene in Harlem and beyond."
Faculty and students of the School of the Arts—and across the University—are actively engaged in a variety of partnerships in the community, teaching, mentoring, and performing for local students on a regular basis.
With a range of spaces suited to presentation of work in multiple genres, the Lenfest Center presents an unprecedented opportunity to support and expand these kinds of partnerships between Columbia and the diverse, dynamic arts community that has long defined Harlem's unique cultural legacy.
Lenfest's philanthropy is notable for both its scale and variety. His 2006 pledge of $37.5 million to match gifts for endowed faculty chairs in the Arts and Sciences inspired other donors to create 25 new endowed professorships. The Distinguished Columbia Faculty Awards, established by Lenfest in 2005, helps support the faculty by recognizing those who excel not only in research but in the instruction and mentoring of students.
For his alma mater, Columbia Law School, he pledged $15 million for endowed professorships and has supported the Lenfest Hall residence. Owing to his interests in sustainable development, global climate change, and acute poverty, he has supported the Lenfest Center for Sustainable Energy, the Gary C. Comer Geochemistry Building at Lamont Doherty Earth Observatory, and a professorship and related initiatives within Columbia's Earth Institute.
Lenfest's most recent commitments to Columbia College include establishing, together with Board of Visitors Chair and University Trustee Jonathan S. Lavine ('88CC), a matching fund to endow five assistant professorships in the Core Curriculum. His record of giving includes support for the College of Physicians and Surgeons, the School of Nursing, Miller Theatre, Columbia Libraries and Columbia Athletics. He chairs the University's 1754 Society, an association of all who have named Columbia in their estates.
A graduate of Washington and Lee University, Lenfest rose to become managing director of the communications division of Triangle Publications in 1970. He started Lenfest Communications in 1974 with the purchase of two cable television companies from Triangle, and sold the company to Comcast in 2000.
He serves currently as chairman of the Curtis Institute of Music, the American Revolution Center and the James Madison Council of the Library of Congress. He is former chairman of the Philadelphia Museum of Art. He is a generous patron of the Pennsylvania Academy of Fine Arts, the Barnes Foundation, and established the Lenfest Scholars program, which helps low and moderate income students from rural south-central Pennsylvania attend college. A University Trustee since 2001, Lenfest was presented with an honorary Doctor of Laws degree from Columbia in 2009.
The Alexander Hamilton Medal is awarded annually by the Columbia College Alumni Association for distinguished service to the College and accomplishment in any field of endeavor.