The world continues to grow ever more connected. Along with countless benefits for many, the forces drawing together the world's economies, people, cultures, and resources have also raised unprecedented challenges, from more evident inequality to limits on free expression to climate change to refugees. Many of our most vexing issues are global.
These problems—complex, large-scale, and urgent—often outstrip the ability of governments and other authorities to respond. They challenge all of us to invest in institutions that have the resources and the flexibility to find new ways of thinking and new ways of acting. Columbia has shown that it is one of the special places that can and must look for global solutions, but to continue fulfilling that mission, we need to renew our commitment as we continue to change with the world.
The scale, urgency, and complexity of global issues represent one kind of challenge. The need to continue to evolve poses others. To carry on our mission as a leader in global solutions, we must do still more to:
Encourage students and faculty in both fundamental inquiry and implementation, timeless questions, and timely answers.
Increase 360-degree collaborations across disciplines, institutions, even continents, to develop our thinking and refine our solutions.
Engage in dialogue with the histories, cultures, politics, values, perspectives, and aspirations of peoples around the world and with those attuned to the complex dynamics of globalization.
Build a campus community that includes the very best students, faculty, and partners from around the globe.
Ensure that our students have experiences inside and outside the classroom that prepare them to take on global challenges, including the questions raised by globalization itself.
Columbia's students and faculty are already working with partners around the globe, solving issues from water quality and HIV/AIDS prevention to renewable energy and refugee rights. Our renewed commitment to global solutions furthers such efforts at every level, yielding important results every day.
The pursuit of global solutions suffuses our campuses, from the groundbreaking work of individual faculty to that of project teams spanning continents and disciplines. Many are anchored in the School of International and Public Affairs, the Mailman School of Public Health, schools with an explicit global focus. Literally, each of the 16 schools of the University has a global component, from internships for students in Columbia College to training architects to design resilient cities.
At the same time, we are working beyond the walls of individual schools to realize the promise of University platforms that directly strengthen the connection between academic work and solving human problems. For 20 years, the Earth Institute has been engaged on the ground in that way, and our network of Columbia Global Centers continues to build a distinguished record in problem solving, involving both global perspectives and deep knowledge of local conditions. Perhaps the clearest distillation of Columbia's new commitment to global solutions is Columbia World Projects, announced in 2017, which builds on interdisciplinary institutes and initiatives throughout the campus.
In all these ways and more, Columbia is committed to continuing to lead the solving of global problems and the exploration of global opportunities.
Columbia is uniquely positioned to address the great issues that confront humanity now and in the decades to come. This is not only a mission worthy of a great university; it is our responsibility as citizens of our nation and the world.
Key Facts
International students and scholars across Columbia's campuses
Columbia Global Centers, operating in Amman, Beijing, Mumbai, Paris, Istanbul, Nairobi, Santiago, and Rio de Janeiro
Years estimated to identify and articulate a solution to a problem of our time through Columbia World Projects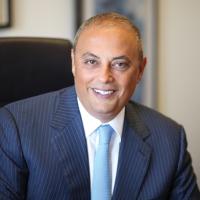 Safwan M. Masri
My commitment: Working across borders, cultures, and disciplines to solve global problems
Significant and unprecedented challenges are facing our global community—from climate change to refugee crises to strains on democratic systems of governance. These serious problems require us to work together—across borders, cultures, and continents—in new and inventive ways.. Read More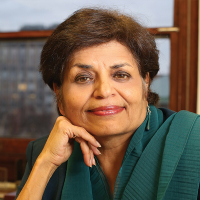 Vishakha Desai
My commitment: Developing a global case for arts and culture for all
From my professional start as an educator and a scholar of Indian art, I became a museum director and ultimately the first female president of the Asia Society, an international educational organization, where I served for 22 years. Now, in my various Columbia roles, I am delighted to be a member of a University community committed to exploring issues of global significance.. Read More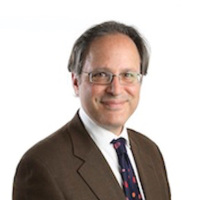 Nicholas Lemann
My commitment: Brokering a marriage between journalism and the university
I have been working as a journalist for a long time, and for most of that time, my primary interest has been in bringing together the traditional journalistic virtues of original on-site reporting and compelling storytelling with an attention to intellectual substance that is more commonly associated with universities.. Read More