Gift From Davis Polk to Expand Legal Services in West Harlem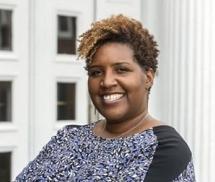 Columbia Law School has announced a $500,000 grant from Davis Polk & Wardwell LLP to expand the Law School's Entrepreneurship and Community Development Clinic. Students in the clinic provide free, transactional business law services to entrepreneurs, nonprofit organizations, and community groups in the neighborhoods surrounding Columbia.
The grant will be distributed over three years and will be used to broaden the innovative clinic's reach, take on new initiatives and additional clients, and provide a greater number of students with the opportunity to serve the West Harlem community while developing substantive knowledge and transactional legal skills.
Specifically, the grant will allow the clinic to hire a new staff attorney to help manage its growing client base and supervise students as they represent the start-ups of low- and moderate-income entrepreneurs and other small-business owners who need additional support.
"I am grateful to Davis Polk for helping us promote economic empowerment and social innovation among entrepreneurs in New York City communities historically underserved by legal services," said Lynnise Pantin '03, clinical professor and director of the clinic. "Our expanded capabilities will allow us to answer the call of those who are in need of help as they navigate a broad range of transactional legal matters. At the same time, we can now train more students in core transactional skills that will be useful throughout their careers."
The COVID-19 pandemic accelerated demand for the clinic's services and Pantin's expertise in entrepreneurship and transactional law. In March, under her supervision, students produced a toolkit that includes resources to help small businesses affected by the crisis deal more effectively with landlords, leases, loans, suppliers, and customers.
This opportunity to expand Columbia Law's contributions to the West Harlem community is a natural fit for Davis Polk, which has partnered with Columbia Law School since 2015 to support its groundbreaking Leadership Initiative. "Davis Polk is proud to partner with Columbia Law in furthering the mission of its pioneering Entrepreneurship and Community Development Clinic to bring crucial legal services to our community members in need," said Davis Polk Managing Partner Neil Barr. "We share in Columbia Law's deep commitment to combatting racial injustice, and we look forward to continuing to work together to advance meaningful change in this area."
The gift also coincides with the 50th anniversary of Columbia Law's pioneering clinical education program. "Experiential learning has been a hallmark of a Columbia Law School education for a half-century. Students and faculty in our pioneering clinical programs serve on the front lines of justice, providing much-needed pro bono legal services to a wide range of clients," said Gillian Lester, Dean and Lucy G. Moses Professor of Law. "Our partnership with Davis Polk allows our students to develop and hone their skills as lawyers and also deepens our ties to communities and individuals in need."
The Davis Polk–sponsored staff attorney is expected to join the Entrepreneurship and Community Development Clinic in 2021. Learn more.