Just Societies Highlights - June 2019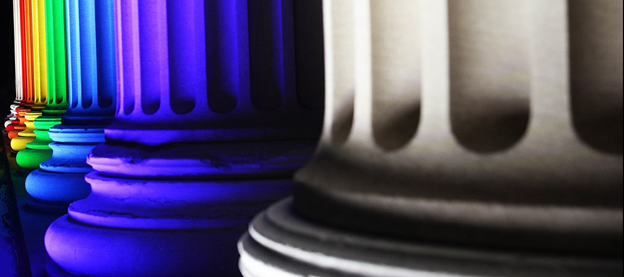 June 2019   

Columbia Just Societies Highlights
Pride of Lions
Columbia celebrates LGBTQ+ history and scholarship across the University as part of our commitment to inclusivity and social justice.
The Roots of Activism

The nation's first student gay rights group, the Student Homophile League, started in 1966 at Columbia. But, according to Columbia historian

David Eisenbach,

LGBTQ+ campus activism began earlier. Learn when

"the rebel" took root at the University.

 
 

Toni Morrison Documentary

In Toni Morrison: The Pieces I Am, director Timothy Greenfield-Sanders '74CC tells the story of the legendary novelist. The film features extensive interviews with Columbia AAADS chair Farah Griffin. On June 21, join a screening and Q&A at New York's Film Forum. Watch the trailer.

 

Take Pride, Columbia

Commemorate LGBTQ+ pride month and the 50th anniversary of Stonewall by following #PrideofLions on social media. Share your story and learn about LGBTQ+ life at Columbia. And on June 29 and 30, see Columbia's Low Library lit up like a rainbow.
Volunteer

How Education and Mentorship Change Lives

Former Justice-in-Education Initiative scholar Jarrell Daniels (left) discusses the Columbia program's impact in and out of prison. The Initiative welcomes financial literacy mentors to support formerly incarcerated people. You can volunteer in person or remotely.
Clooney Foundation Launches Human Rights Initiative at Law School

The Clooney Foundation for Justice, co-led by human rights lawyer and visiting law professor Amal Clooney, launched TrialWatch at an April event with President Lee C. Bollinger and Law School dean Gillian Lester. The Law School will partner with TrialWatch to help safeguard the rights of journalists, dissidents, and minorities.

Formerly Homeless Veteran Documents Queer Black Experiences

Columbia Magazine's latest issue features Elegance Bratton '14GS, who tells stories about alternative families nurturing homeless LGBTQ youth. Bratton's documentary Pier Kids: The Life explores New York's ballroom scene, a queer subculture.


Columbia Lawyers Win Case for Gay Rights in India

"LGBT Indians are everywhere. But you needed to make them real to judges in the courtroom," says Menaka Guruswamy, Columbia Law lecturer. Time named Guruswamy and Arundhati Katju '17LAW among this year's 100 most influential people for their role in overturning India's law against gay sex.
Ideas or questions? Email us at justsocieties.commitment@columbia.edu
Our commitment to Just Societies renews and emboldens efforts to build an equitable, inclusive world. Just Societies is part of 
The Columbia Commitment campaign, which builds partnerships with donors and volunteers sharing an urgent sense of what Columbians can do for our students and the world. 
You are receiving this email because you attended a Columbia Just Societies event or signed up to receive Columbia social justice news.