Just Societies Highlights - March 2020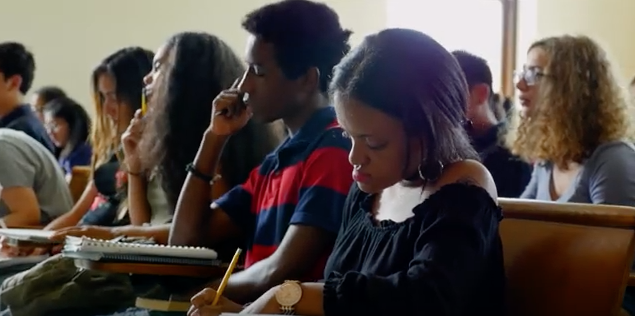 March 2020   

Columbia Just Societies Highlights
Reaching Beyond Columbia
Every summer, Freedom and Citizenship, a college prep and civic engagement program run by Columbia's Center for American Studies, invites up to 45 high school juniors to live on campus and take classes. The program is free and serves low-income students, helping them develop skills to succeed.
Learn more
.
Shawn "JAY-Z" Carter Lecture Series Launches

The African American and African Diaspora Studies Department kicked off the Carter Lecture Series, named in honor of the NYC-born rapper, songwriter, entrepreneur, and philanthropist. The series will spotlight public intellectuals and other major figures who have contributed to our understanding of the black diaspora.
A Justice Perspective on Field Education

On March 24 from 12PM to 12:30PM, join Columbia School of Social Work's Facebook LIVE talk with Ovita Williams, associate director of field education, to learn about how instructors can work to undo racism. In social work, field education is where students practice and learn inside agencies or communities.  
Climate Justice Essayist at Earth Institute

With the Natural Resources Defense Council, Columbia's Earth Institute welcomed climate justice essayist Mary Annaïse Heglar to spend six months in a new writer-in-residence program.
Volunteer

Join Columbia Community Outreach Day

On March 28, students, faculty, staff, alumni, and non-alumni come together to clean up parks, serve at soup kitchens, or help out in hospitals on the annual Columbia Community Outreach Day. Sign up by March 15.

An Inmate-Run Newspaper Transformed a Notorious Prison

Columbia Magazine interviews William Drummond '66JRN, '66SIPA, professor at the UC Berkeley Graduate School of Journalism, about training inmates to be journalists at California's San Quentin State Prison.


Education Reporting Fellowship Exposes School Inequalities

The Teacher Project, a reporting fellowship at Columbia Journalism School, produced a USA Today story about two NYC boys with the same disability who needed help. The wealthier student got it fast, but the poor student did not.
Ideas or questions? Email us at justsocieties.commitment@columbia.edu
Our commitment to Just Societies renews and emboldens efforts to build an equitable, inclusive world. Just Societies is part of 
The Columbia Commitment campaign, which builds partnerships with donors and volunteers sharing an urgent sense of what Columbians can do for our students and the world. 
Please note: In light of the coronavirus (COVID-19), the University is following Columbia expert guidelines and cancelling, offering online, or postponing many events. If you have questions, please contact the event sponsor.

You are receiving this email because you attended a Columbia Just Societies event or signed up to receive Columbia social justice news.