"Realizing Your Dreams"
Paul LeClerc and Judith Ginsberg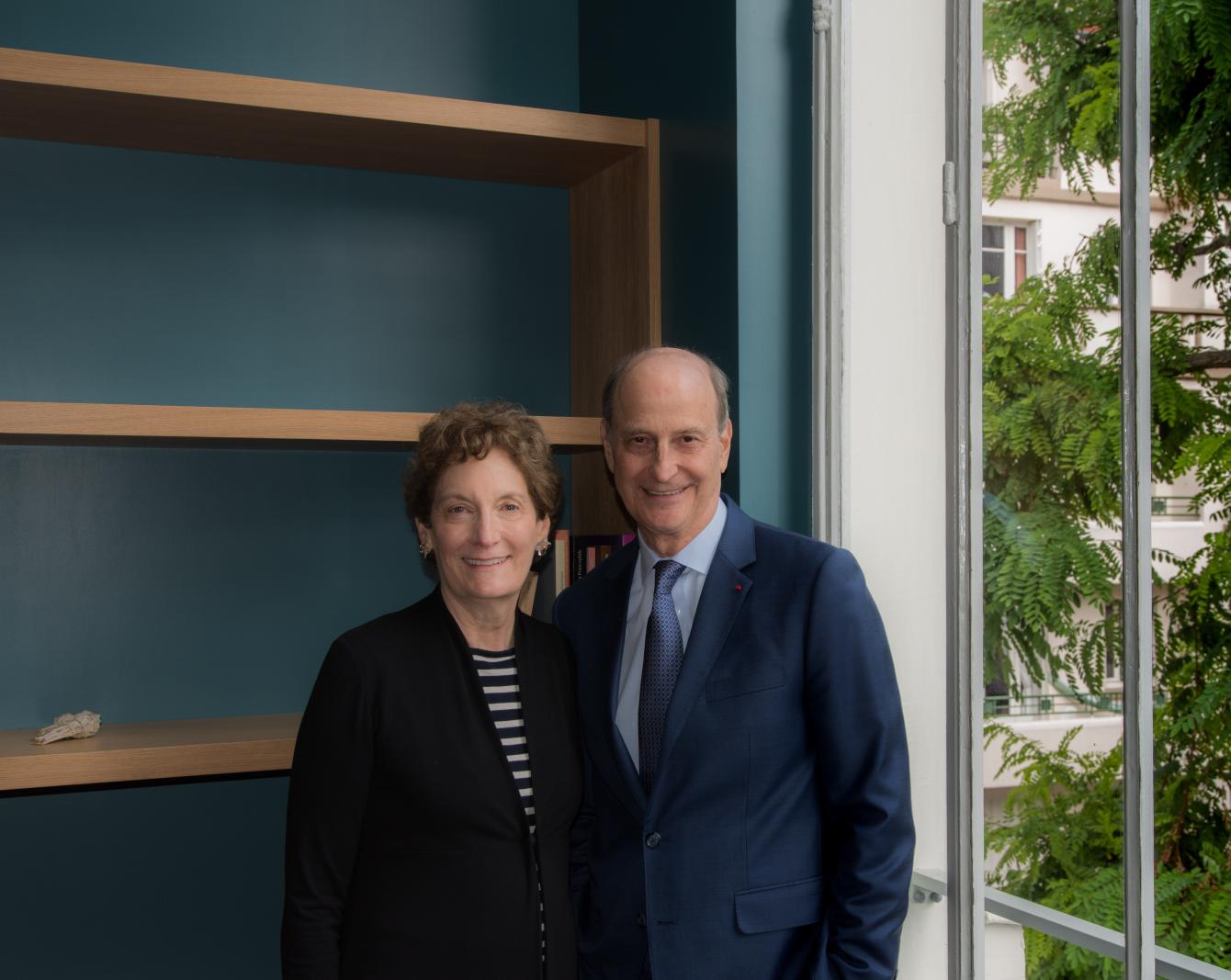 For Paul LeClerc, former president of the New York Public Library, and an accomplished scholar of French literature, Columbia is not just a beloved alma mater that helped spark his professional career. Columbia is also where he encountered a new world of possibilities, one that would forge a lifelong affinity for the areas he cares about deeply—first as a student and most recently, as director of Columbia's Global Center in Paris.
"The things that are most important to me in life are family, libraries and universities, Columbia, and France," Paul said. "With regard to Columbia, the University shaped me just about entirely."
Now Paul and his wife, Judith Ginsberg, have made two extraordinary gifts that each honor their loyalty to Columbia and pave the way for future generations to be inspired, feel empowered, and ultimately to flourish just as Paul did.
After receiving his PhD in French from Columbia University, Paul began a distinguished career as an academic, first as a professor and then as a leader, serving as CUNY's university dean for academic affairs, acting vice chancellor for academic affairs, and provost and deputy president at Baruch College. He then served as president of Hunter College from 1988 to 1993.
As president of the New York Public Library from 1993 until 2011, he helped usher the library into the digital age. In fact, Columbia helped spark his lifelong love of libraries. "Columbia was extremely important to me, as it was my first experience with a world-class library."
Paul LeClerc learned early on that one way to inspire others to give was to have his own "skin in the game."
"It dawned upon me how awkward it was to ask people to give money to a cause if I wasn't giving myself," Paul said. Paul and Judith have continued to lead by example, giving back to the causes they believe in. As Paul said: "New York is the most philanthropic city in the world. Giving is an expectation. It's part of the culture of New York City."
Judith Ginsberg is executive director of the Nash Family Foundation, which devotes most of its resources to helping members of Jewish communities in New York and Israel who are in need of social services.
Paul and Judith have continued their practice of giving back in the tradition of good New Yorkers with a gift to create the Paul LeClerc and Judith Ginsberg Professorship in the Faculty of Arts and Sciences. Their overall wish was to support the present and future teaching and research interests of members of the French Department and teaching and research related to the history of France itself by members of the History Department.
Paul looked back with great fondness on his time as a graduate student at Columbia. "One of the best experiences ever. I ascribe credit for my career to those days in particular and the teachers and mentors who inspired and supported me." Paul and Judith will now ensure that experience continues for the countless students who will be mentored and inspired by the academics who hold the title of their gift.
Their second gift harkens to Paul's most recent post as director of Columbia Global Centers | Paris from 2012-2021.
"The overarching factor was how Columbia embraced Judith and me. We were made part of a broader academic community, which was one of the most exceptional experiences of our lives."
As President Lee C. Bollinger said when Paul was named director of Columbia's Europe Global Center in Paris, "We are delighted to welcome someone with Paul LeClerc's record of intellectual accomplishment and civic leadership back to Columbia. He has demonstrated an enduring commitment to connecting students in New York with the world beyond our borders—and to bringing the culture of the world home to New Yorkers."
In honor of their experience with the Paris Global Center and their devotion to all things French, Paul and Judith also made an outright gift to support the modernization and historic restoration of the Grande Salle Building at Reid Hall. The Grande Salle is an important signature space for the Global Center in Paris. Built between 1912-1913, the Grande Salle is a lecture hall and performance space, and now serves as the main destination for students attending large lecture classes; faculty engaged in international workshops, conferences, and symposia; and the members of the public who annually attend concerts, lectures, and film screenings. The space will be renamed the "Grande Salle Ginsberg-LeClerc'' in honor of their gift.
The inspiration for this gift came from Judith. "Like Paul, I fell in love with Reid Hall during his nine years of engagement there. And I am deeply appreciative of the remarkable support that President Bollinger and the broader Columbia community have lent to his work in Paris."
Paul and Judith reflected on their experience with the Gift Planning team at Columbia University. Through a series of conversations, Paul and Judith realized they could direct their assets in a bequest intention to give far beyond what they believed their capacity to be.
"'You can do this' was the crucial result of our deliberations," Paul said. "Until we spoke with experts on Columbia's Gift Planning team and connected them with our financial and tax advisers, we never thought we could do gifts of this size. You don't know unless you talk to the right people about what's feasible."
Paul and Judith hope they can inspire others who have been shaped by Columbia to not only give back to the University, but to set their sights high.
According to Paul, "Talk to the people at Columbia and your financial advisors to realize your charitable dreams. There is a real joy in giving to an institution that you love. That's the magic of it. You can advance scholarship, teaching, and learning in one of the world's best universities. And you're doing so with the help of superb professionals. Your aspirations can indeed be materialized. They aren't simply fantasies."