Robert F. Smith '94 Scholarship Fund to Support HBCU Graduates and Others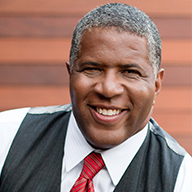 Students applying to Columbia Business School will have access to a new scholarship fund in the 2022-23 academic year, thanks to a $10 million gift from Robert F. Smith '94, founder, chairman, and CEO of Vista Equity Partners. The Robert F. Smith '94 Scholarship Fund, which is expected to support approximately 200 MBA students through partial or full scholarships over the next ten years, will be awarded to enrolled CBS students who have graduated from HBCUs, overcome systemic hardships or challenges in their academic pursuits, or demonstrated a strong commitment to engaging diversity.

"Robert Smith is to be commended for supporting talented students who have been underrepresented in higher education and for his sustained commitment to expanding access to the nation's colleges and universities," said Lee C. Bollinger, Columbia's President and Seth Low Professor of the University. "His generous gift coincides with the opening of Columbia Business School's Manhattanville home and serves as a fitting declaration of the values to be embraced by the future of business education at Columbia."

The program is part of Columbia Business School's broader commitment to increase the diversity of the student body by proactively creating applicant pipelines and securing financial aid to create equitable access. "Robert Smith's gift provides us with significant support in our effort to bring in a diverse student body to our School and to help create a more inclusive, equitable and innovative society," said Costis Maglaras, dean and David and Lyn Silfen Professor of Business. "It is vital to achieving our vision of developing inspiring leaders and ideas that transform the world. Robert's generosity will allow us to amplify our efforts. We are grateful for his support."

The scholarship program is the newest resource aimed at broadening the student pipeline. Since 2019 when the role of Vice Dean of DEI was created, School activities have included joining The Consortium for Graduate Study in Management, reaffirming the school's commitment to admitting a racially diverse student body; removing cost barriers through the Perelman Scholarship Fund; partnering with First Generation Investors, a nonprofit program that teaches high school students in underserved communities the power of investing; and launching the Columbia Undergraduate Business Scholarship program of paid research assistantships, which aims to increase awareness about business research and academic careers among Columbia undergraduates from underrepresented groups.

"Our work in the area of diversity, equity, and inclusion is ongoing, and there is much to do. Gifts such as this one will help us make true progress," said Ann Bartel, Vice Dean for Diversity, Equity, and Inclusion and Merrill Lynch Professor of Workforce Transformation. "Those who are fluent in the language of business and technology will play an enormous role in building the future. We need to make investments today in tomorrow's talent pipeline, ensuring that it is open to those who have historically been left behind. This scholarship will do just that," stated Robert F. Smith.

Across the United States, HBCUs confer over 17 percent of all bachelor's degrees awarded to Black students and continue to be key sources of talent (McKinsey, 2021). Through these scholarships, Columbia will be able to access a pipeline of those who have been historically overlooked by non-HBCU graduate institutions. "Columbia Business School saw something in me and helped propel me in my career, and I know that they will continue to empower the leaders of the future, providing them unparalleled opportunities right in the heart of our nation's economy – New York City," Smith said. This is the second major gift Smith has given to Columbia. In 2017, he donated $15 million to support the School's historic move to the Manhattanville campus.

Editor's note: A version of this article was originally published by Columbia Business School.