SEAS Alum Donates $1M to Address Coronavirus Pandemic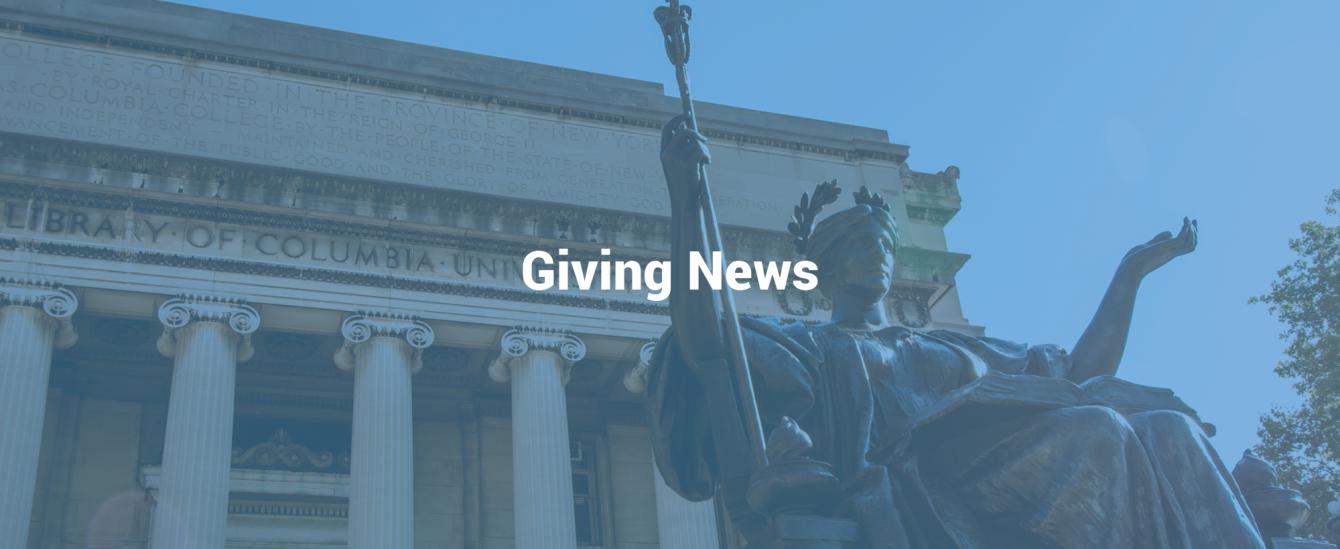 April 9, 2020 — Dr. Bing Zhao '92SEAS, '94SEAS has donated $1M to help Columbia Engineering and the Mailman School of Health continue battling Covid-19 in the US and around the world.
The gift is focused on initiatives in three key areas: therapeutics, led by Chemical Engineering Professor Jingyue Ju; rapid diagnostics, led by Biomedical Engineering Professor Sam Sia; and public health outreach in Africa, led by Professor Wafaa El-Sadr, Director of ICAP at Columbia University.
"This is an unprecedented challenge, and I felt it was imperative to contribute in any way I could," said Zhao. "Columbia University has been on the frontlines since this crisis began, addressing the urgent need for therapeutic inventions, rapid diagnostics and assistance for developing nations with the world's most fragile healthcare systems."

Therapeutics
The research project led by Jingyue Ju, Samuel Ruben-Peter G. Viele Professor of Engineering of chemical engineering, is focused on developing therapeutics for COVID-19, the disease caused by the SARS-CoV-2 Coronavirus. His group has identified four molecules that shut down the SARS-CoV-2 polymerase reaction, a key step that establishes the potential of these molecules to be developed as therapeutics for COVID-19. Three of these molecules are FDA-approved drugs for other viral diseases: Sofosbuvir for hepatitis C, AZT for HIV/AIDS, and Tenofovir alafenamide for HIV and hepatitis B. Ju will use the new funding to support his research to delineate the detailed molecular mechanisms of these drug leads, to perform coronavirus inhibitory assays, and to formulate therapeutic protocols for these drugs to potentially treat COVID-19.

Rapid Diagnostics
Biomedical Engineering Professor Sam Sia will use his funding to develop rapid diagnostic testing for COVID-19. Rapid tests for COVID can help individuals diagnose late-stage infections, and verify post-infection status so that people, now likely immune, can safely leave quarantine and go back to work. These tests also inform public health surveillance to identify true regional incidence and prevalence values for targeted, rather than global, containment strategies. Most current rapid test formats are not optimized for home use. They are not easy to perform: they require people to prick their finger for blood and the non-professional needs guidance to interpret the test and, if needed, find care. Sia's group is working both to improve current rapid test formats so they are easy to perform at home, and to optimize a mobile app that can accurately interpret rapid test images, using computer vision and machine-learning algorithms, and provide individualized instructions. The group will also accelerate their efforts to build an automated and ultrafast COVID RT-PCR test, based on the format of the approved RNA tests whose supply is limited, in order to increase the overall testing capacity.

Public Health Outreach

Wafaa El-Sadr, director of ICAP at Columbia University, University Professor of Epidemiology and Medicine at Columbia University, the Mathilde Krim-amfAR Chair of Global Health, and director of the Global Health Initiative at the Mailman School of Public Health, will use the funds to support urgent response projects in three sub-Saharan African countries where increasing numbers of cases in the context of extremely fragile health systems pose potentially catastrophic public health threats. Under Dr. El-Sadr's direction, ICAP's teams on the ground in Kenya, Sierra Leone, and Mozambique will work closely with health officials and leverage longstanding partnerships with health facilities to support rapid and effective responses to the spread of COVID-19.

In Mozambique, ICAP will support the Nampula Provincial Health Directorate by strengthening COVID-19 case monitoring and management and contact tracing activities throughout 23 districts. In addition, ICAP will support the Provincial Isolation Center with critical supplies and equipment for healthcare workers and COVID-19 patients in critical condition.

In Kenya, ICAP's team will expand its ongoing support for the Jaramogi Oginga Odinga Teaching and Referral Hospital (JOOTRH) in Kisumu, strengthening the existing triage system with appropriate referral and care of confirmed COVID-19 cases either in self-isolation at home or in JOOTRH's isolation unit. ICAP will also develop Information, Education, and Communication (IEC) that will be shared with patients upon discharge, and set-up a hospital hotline to provide information throughout the community.

In Sierra Leone, at the facility level, ICAP will introduce a triage station (also known as a "fever clinic") at the entrance of the King Harman Hospital in Freetown to collect specimens, categorize severity of infection, and make appropriate referrals. At the community, ICAP will introduce mobile health brigades, staffed with health volunteers who have been trained in infection prevention control (IPC) and equipped with protective gear, to disseminate critical information and services using nationally approved IEC materials. Learn more.