Tang Family Gives $20 Million to Establish the Tang Fund for Engineering Innovations in Financial Technology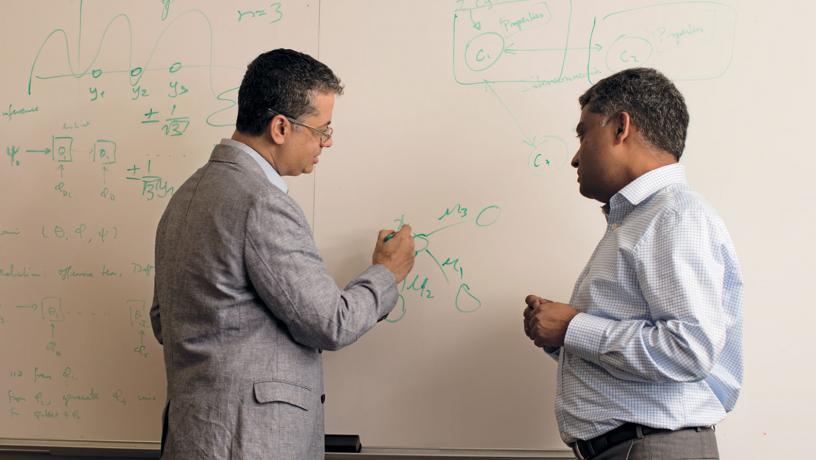 October 25, 2018 — Columbia University's Fu Foundation School of Engineering and Applied Science has announced a $20 million gift from the Tang family, Hong Kong-based investors, to establish the Tang Fund for Engineering Innovations in Financial Technology. His gift will support at least two faculty positions, five doctoral fellowships, and research funding that is intended to enhance teaching, accelerate research, and amplify translation into real-world applications.
"We are deeply grateful for the Tang family's extraordinary generosity and foresight in making such a transformative gift," said Mary C. Boyce, dean of Columbia Engineering. "Technology advances, from algorithms to data to hardware, have transformed financial systems, with the potential for new applications in other industries. By bringing together the best minds and supporting their research at the highest level, the Tang Fund for Engineering Innovations in Financial Technology will help ensure that the next generation of advances best serves the interests of humanity, from the level of global financial markets to e-commerce to the way individuals pay their bills to the privacy and security of these transactions."
Financial technology, or FinTech, has captured the attention of the public and private sectors alike, thanks to the creative, disruptive ways that machine learning, analytics, cloud, blockchain, and other technology innovations are transforming financial processes—while also offering potential applications beyond finance. As this technology spreads, it's becoming increasingly important to understand ways in which security, transparency, and privacy can be assured to maintain confidence in financial markets.
 
Tang Endowed Faculty
The Tang family's gift will endow two faculty positions at the outset, either promising junior or exceptional established senior faculty. Tang Professors will add depth and breadth to both research and teaching in this rapidly evolving field. In addition, a portion of the gift has been targeted toward supporting a cohort of doctoral fellows who will conduct research in partnership with the Tang Professors and faculty in the School's expanding efforts in FinTech, and will also support innovations in education.
 
Research Acceleration
Nearly a third of the Tang gift is earmarked for research acceleration, providing the faculty with the support to test and refine new ideas and to create new knowledge and new technology.  Columbia Engineering's faculty are deeply engaged in research related to the FinTech revolution, with projects that range from developing a cybersecurity risk model to underpin a nascent cyber insurance industry to studying how humans and machines can efficiently and effectively cooperate to maximize investment returns.
Another FinTech initiative, launched in September 2016, is the FDT Center for Intelligent Asset Management, a research center led by Xunyu Zhou, Liu Family Professor, Industrial Engineering and Operations Research. Additionally, in spring 2018, Columbia Engineering introduced the Cheung Kong Graduate School of Business Innovation Fellowships to support doctoral students in research innovation in e-commerce and the sharing economy.
Many Columbia Engineering faculty are collaborating on projects under the auspices of both Columbia's Data Science Institute, a multi-disciplinary, cross-University center, launched by Columbia Engineering in 2012, and the Columbia-IBM Center for Blockchain and Data Transparency, which was launched in July 2018.
The additional resources provided by the Tang gift will support basic, interdisciplinary, or translational research, allowing faculty to explore new questions that emerge as the FinTech landscape evolves.
The transformative Tang gift to fund innovations in financial technology will amplify existing initiatives at Columbia Engineering.  The two faculty positions, complemented by as many as five doctoral fellowships, will add new research dimensions to the School's already significant focus in financial technology. The gift will not only benefit faculty and students, but also the field as a whole by sparking a vibrant dialogue among the many Columbia Engineering alumni who are engaged in finance, banking, analytics, insurance, as well as the related technology companies that support these industries. In this way, the gift will enhance the School as a forum for sharing new ideas and a catalyst for translating them to the marketplace.    
The Tang Fund for Engineering Innovations in Financial Technology, by supporting cross-disciplinary research at Columbia Engineering, will be at the center of a community of scholars, students, and alumni, helping to assure the School's continued leadership in the interconnected FinTech research arena. Learn more.