Butler banner project honors women writers and visionaries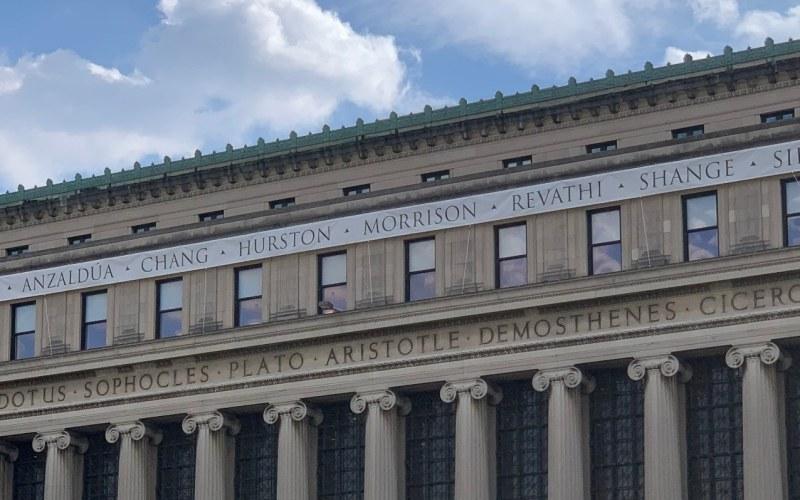 Since Butler Library opened in 1934, eight names have loomed large on its façade: Homer, Herodotus, Sophocles, Plato, Aristotle, Demosthenes, Cicero, Vergil—all men. Now, Columbia students have transformed the front of Butler with a banner that places eight women front and center. The names of Maya Angelou, Gloria E. Anzaldúa, Diana Chang, Zora Neale Hurston, Toni Morrison, A. Revathi, Ntozake Shange, and Leslie Mormon Silko hang over the Morningside campus until December.
The student organizers of the Butler Banner Project are paying homage to two previous attempts to diversify the names on the Library: one, in 1989, which was disrupted by campus security, and one in 1994, which hung during Women's History Month. To honor the two earlier banners and mark the 100th anniversary of the Core Curriculum, founded in 1919, the Columbia Libraries asked Columbia students to organize a third banner to honor literary works by women.
"We hope that this invites curiosity and inspires inquiry around the women who are on the banner, around questions about representation in the curriculum, and the way in which our collections support the curriculum and expand the notion of different voices," said Barbara A. Rockenbach, the associate university librarian for research & learning at Butler Library.
Along with the banner, the fall semester features events, including a book club, speaker series, and a screening of The Pieces I Am, a documentary about Toni Morison, as well as an exhibit inside the library dedicated to the life and work of each of the featured women.
"We read literature to understand the human experience, and hopefully, by reading the themes and experiences of these writers, students will begin to see all that is left out of the Western canon," said Radhika Mehta, a Columbia student and project co-lead. Learn more.