Outpouring of Support to Fight COVID-19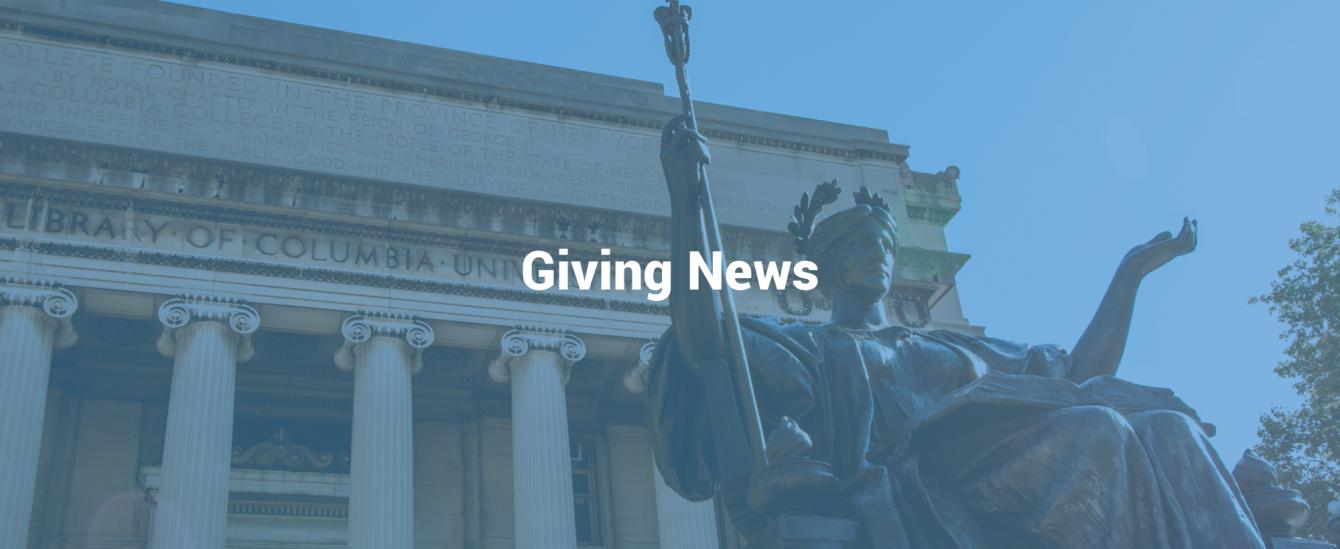 From doctors, nurses, and staff at Columbia University Irving Medical Center (CUIMC) who are on the frontline of COVID-19, to faculty and graduate students making shields and personal protective equipment (PPE), the University community has come together as never before.
Columbia alumni clubs in Greater China raised over $2.1M in cash and in-kind contributions from more than 300 donors. Alumni there and, in some cases, their parents, including Fenglei Fang, worked to provide a million surgical masks as well as gloves, face shields, gowns, etc. to hospitals that needed them most.
Thomas E. Lo, president of Columbia University's Vagelos College of Physicians and Surgeons Alumni Association, saw the urgency. He harnessed the power of the Columbia community in China to collect PPE to fight COVID-19. "Within 24 hours, I had dozens of emails," he said in an NPR interview.
Chris Wei, president of the Alumni Association in Taiwan, joined in by helping source and ship cases of a germicidal disposable wipe, PDI Sani-Cloth AF3, in short supply. "Let us know if there is anything more we can do to help," said Wei. "Alumni here in Taiwan have our hearts with everyone at Columbia University."
The response from alumni and friends around the world also helped raise more than $28 million to support CUIMC in tackling some of the most pressing COVID-19 needs. These contributions work to advance public health initiatives, research for treatments, and patient care. Gifts also support tele-medicine programs, mental health services, and frontline emergency room faculty. The medical center mobilized across all departments to address this unprecedented crisis.
One research team at CUIMC, for example, is developing anti-viral compounds to kill the virus and prevent its spread. Led by Dr. David Ho, their work has been met with a global outpouring of support. More than $10 million has so far been raised toward a $20 million goal.
Other donors stepped forward for our healthcare heroes and researchers, including funding an antibody testing program to understand the immune response to the virus. Donors have also supported our Medical Center volunteer student corps, made up of graduate students from the health sciences schools who are helping those on the frontline.
Dr. Bing Zhao '92SEAS, '94SEAS has donated $1M to help Columbia Engineering and the Mailman School of Health continue battling COVID-19 in the US and around the world. The gift focused on three key areas: therapeutics, rapid diagnostics, and public health outreach in Africa.
Recognizing that the COVID pandemic has brought an immediate financial impact as well as other hardships, alumni across our campuses reached out to support students in need. With a match funded by a number of Trustees, as of March 26 of 2020, more than $2 million has been contributed to Columbians Caring for Students.
This outpouring extended beyond Columbia's alumni and donor community. Celebrities rallied around a salute to our frontline workers with #thankyoufrontline. Crowdfunding projects launched as well, including fundraising to build far-UVC technology that may slow COVID-19's spread.
By making gifts at every level, sending in-kind contributions, or providing countless hours of service, Columbians have shown an unflagging commitment to COVID-19 recovery. Learn more.