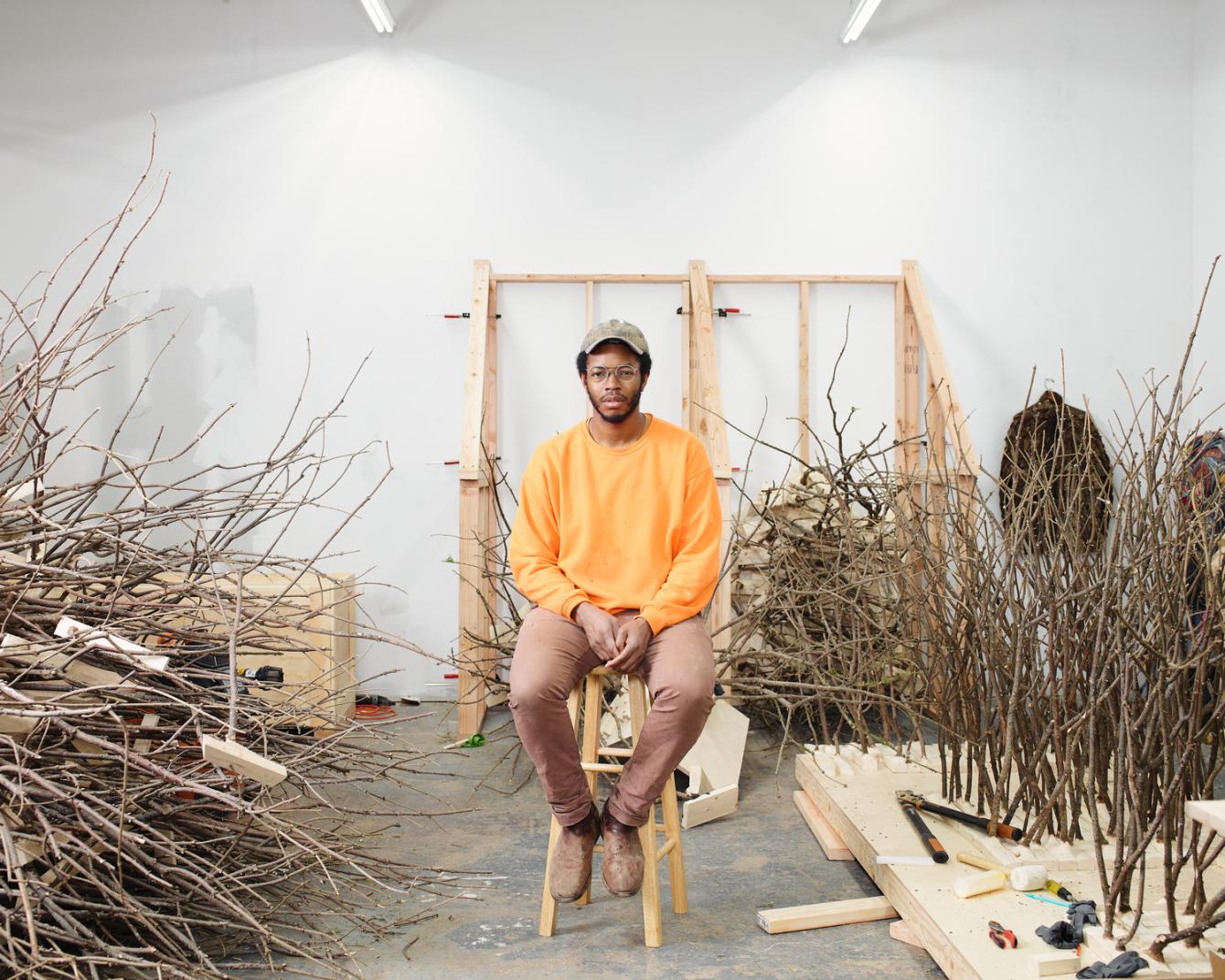 A baby stroller. A white picket fence. A dining room table—all recognizable objects in Hugh Hayden's 2018 exhibit "Border States," which featured sculptures made of wood indigenous to the US-Mexico border.
According to the catalogue, Hayden '18SOA addresses "themes of assimilation and acceptance." He "metaphorically disrupt(s) traditional American social context."
In the summer of 2020, George Floyd was killed and Black Lives Matter protests were happening across the nation. Hayden knew he had to disrupt things again—take action in another way, do something more.
He saw an opportunity to give back to his alma mater, Columbia's School of the Arts (SOA), and the Graduate School of Arts and Sciences (GSAS), where he took art history courses.
Working with Columbia and the Lisson and Clearing galleries, Hayden is helping to create, personally fund, and raise additional resources for the Solomon B. Hayden Fellowships to support diverse voices in the arts.
The Clearing Gallery is raising funds for their contribution by selling new works by Hayden. All proceeds will benefit the Solomon B. Hayden Fellowship Fund in Visual Arts. The Lisson Gallery's senior leadership representatives—Nicholas Logsdall (chairman), Alex Logsdail (executive director), and Greg Hilty (curatorial director)—are jointly making an equal personal contribution toward the fellowship. Since the effort began, other donors have already made generous contributions to the Hayden fellowship funds.
As a result, two students who have demonstrated leadership in the African-American and African Diaspora communities have enhanced funding to attend Columbia. One is a student pursuing an MFA in visual arts (with a focus on sculpture) and the other is a Master's student in the Modern and Contemporary Art: Critical and Curatorial Studies (MODA) program in the Department of Art History and Archaeology.
In addition to studying with Columbia's top faculty, students can access the resources of the Lisson and Clearing galleries by working directly with their artists, attending openings, and gaining valuable exposure in the art world.
"Nothing about this is traditional. These fellowships can give artists access to things that money can't buy."
According to Columbia's School of the Arts Dean Carol Becker, "Hugh recognizes the need to make scholarships available to those talented students whose presence will help to transform the demographics of the art world and extend opportunities for success to a more expansive group of young artists. This scholarship marks a unique collaboration between a socially conscious artist and equally remarkable gallery owners. We are thrilled and proud to host the first Solomon B. Hayden Fellowship in Visual Arts at the School of the Arts."
"Nothing about this is traditional," according to Hayden. "These fellowships can give artists access to things that money can't buy." The fellowship recipients will have a pathway into the notoriously hard to enter art profession.
The inspiration? Solomon B. Hayden, Hugh's father and a math teacher. Working a second job on weekends, he sent his sons to private schools, offering them unwavering support.
"I am proud to establish this fellowship in honor of my late father, Solomon B. Hayden," Hayden said. "He encouraged and instilled in my brother and me an enduring ethic to aim high, to follow our dreams whatever they may be, no matter how difficult, and to always give 110%."
by Tracy Quinn '14SPS